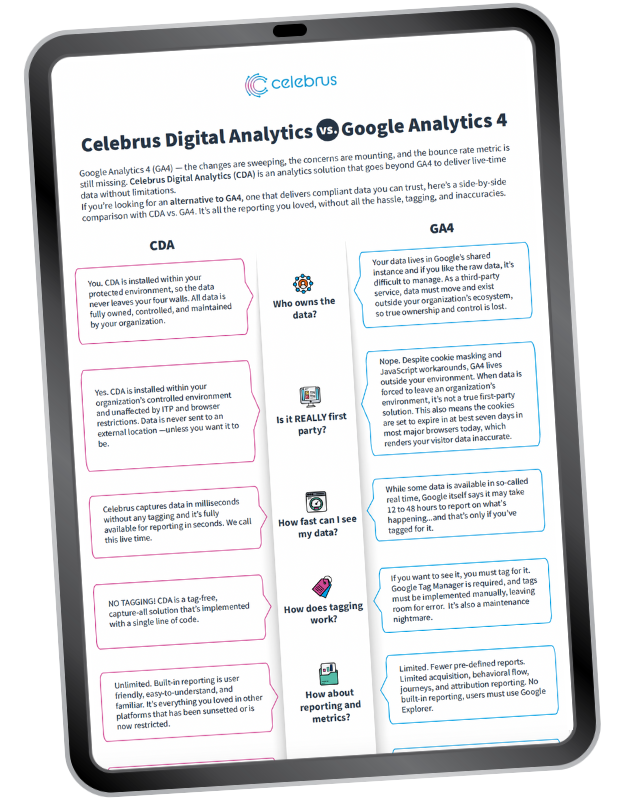 Overpromising. Underdelivering.

Sound like your analytics platform?
Google Analytics 4 (GA4) — the changes are vast, the limitations are growing, and your favorite marketing metrics are MIA. It's time for a new solution: Celebrus Digital Analytics (CDA).
This comparison puts CDA and GA4 to the test with eight questions every analytics platform should answer.
Better data, better compliance, more control

- it's the trio every marketer deserves in an analytics solution.
Marketers demand a lot from their analytics platforms. Aside from audience insights and metrics, they expect consistent reporting, accurate data, and reliable performance.
But what happens when familiar metrics and core features suddenly disappear from a platform?
The digital landscape is rapidly changing, and legacy analytics platforms can't keep up with evolving privacy regulations. This leads to fewer deliverables, more data discrepancies, and the inability to deliver on promises.
This comparison explores CDA vs. GA4 and answers eight pressing questions every marketer should ask of their analytics solution.
Celebrus Digital Analytics vs. Google Analytics 4:

The results are in, and they're stunning.